Having previously focused on sprint distance triathlon, this was my first season training for 70.3 distance and first Ironman event. The training block had gone well and I was keen to make sure I left it all out there on the day.
Arriving with plenty of time on the Friday to check in, I racked my bike and then off to the lake for a quick swim. With warm and crystal clear water, I now know why Taupo plays host to the such a great event! 
After a less than perfect night sleep (does anyone get that before a race!?), it was an early start to set up transition. No matter how much time I give myself in the morning it always seems like a rush and this was no different. Down to the lake for an amazing Maori welcome and then before I knew it I was in the holding pen and the pros were off!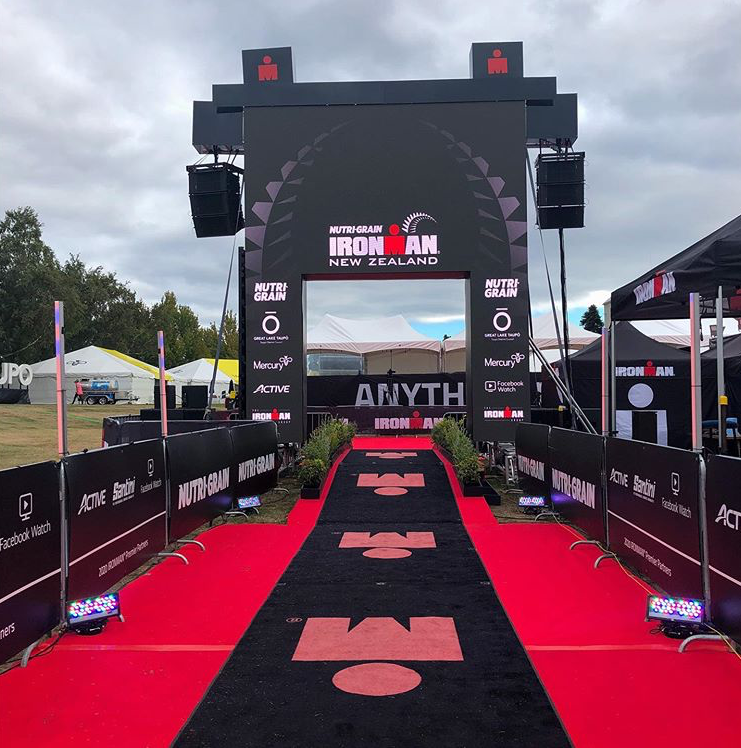 The Swim
70.3 have introduced rolling, self-seeded starts. Which I'm a fan of. Gone is the chaos of a mass start, not being able to breath and getting some elbows for your trouble as everyone vies for position. I didn't really get a proper swim warm up in so the first 500m felt like a struggle as my arms and shoulders slowly got going. The clear water made it easy to follow feet, although the pre-dawn start made sighting the buoys a little difficult.
I settled into a good rhythm and the middle 1000m felt great and before long it was out on onto the long, uphill transition. This allowed the legs a warm up a little ahead of the bike, calm down a bit and think about transition. Which ultimately made T1 smoother and faster. 
The Bike
The first hour was probably the highlight of the whole race for me. With the sun coming up over the hills and really putting the hammer down everything felt great. I had to check myself at around 30km just to make sure I wasn't overcooking it as I found myself getting caught up in cat and moussing some strong riders.
My nutrition strategy had been to alternate between bars and gels, however in the heat of the moment I decided to have all my "real" food first, with a banana and bars seeing me through until around 60ks in, then on to the gels. This turned out to be a good move and one I will definitely be taking with me into the next race.
I had originally set my sights on a 3 hour ride, but it was around that 60k point that I realised 2:45 was on. Spurred on by this I attacked the hills and a headwind and was stoked to come back into T2 at 2:44. 
The Run
After a quick pit stop I was out onto the run. My legs felt good and quickly settled into a 4:45 pace rhythm. A few Ks in I realised there was another guy (Jonno) running the same pace and we decided to run it together. While I wouldn't have called the first 10k cruisy, Jonno and I were chatting, taking our mind off the pain that was creeping in.
The second lap was a much quieter affair. But having someone to pace off really got me through 10 – 15km. Gels at 6, 11 and 16km worked well, as well as making a point to pick up at least one thing from every aid station.
With 3km to go I tried to pick up the pace, tried being the key word. Everything hurt and my heart rate was jacked. But with the finish line coming close, I knew this it was now or never. I knew that 1 hour 40 was on, but it would be tight. The final corner and onto the red carpet was an amazing experience and I was so happy to cross the line.
All I knew was I'd managed to squeak in under 1:40 for the run (a half marathon PB!) and the feeling of having nothing left. My goal to leave it all out there well and truly met.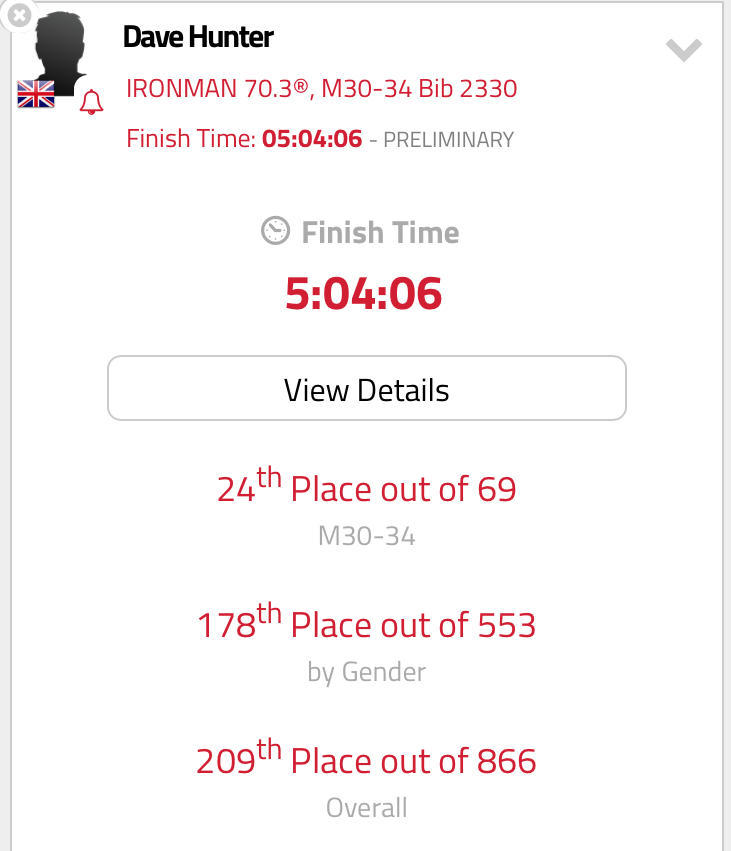 The Finish
For my first 70.3, my initial goal was 5 hours 30. So with a swim of 31 minutes, bike of 2 hours 44 and run of 1:39:53 (yes, the 7 seconds are important) I was stoked to come home in 5 hours 4 minutes.
This is something that would have seemed impossible only 2 years ago. When I had a knee injury that meant I couldn't run more than 400m without severe pain. The key to my training has been 1) to improve my biomechanics and 2) consistency.
Improving my mechanics through intervals combined with targeted strength and mobility has allowed my body to adapt and run with better form, for longer, while under fatigue. This just wouldn't have happened if I'd have simply increased my volume.
The last training block as also been consistent. Since moving to New Zealand less than 6 months ago, I have tried to throw myself into everything there is to offer. Being able to swim/bike/run in some awesome locations has meant training never felt like a grind. The key is to keep it varied and enjoy the process!
Lastly, a big thank you to all the organisers, volunteers and supporters for making my first Ironman one I'll never forget. My sights are now firmly set on cracking sub 5 hours. Most likely at Ironman Melbourne in November!